Some of our clients contacted us about business reopening ideas to help them with the COVID 19 guidelines and how they could best do it while following their established brand.
The BOP STOP is a premier jazz club. We felt a video was the best way to communicate their safety initiatives, thus giving their clientele the confidence to return to the venue. Most small businesses can do similar videos with creative design thinking.
Pushing Creative Thinking
To solve your COVID 19 small business reopening, make a list of all the issues that need to be addressed. We will work with you to brainstorm possible solutions. More problems will arise while trying to fix things on the list. We will just add to the list and keep at it. Keep the positive in mind and refer to the Ohio responsible guidelines for reopening.
We feel the companies that will succeed through the effects of the pandemic are ones who:
Keep the message as positive as possible
Push the limits on creative options for solving the plethora of problems
Be consistent, but adjust as you go
Events
Many events can return to in-person by rethinking your space and process. People are longing to get away from the computer and virtual meetings. You can host an event with a little thought and get back to offering workshops or hosting keynote speakers.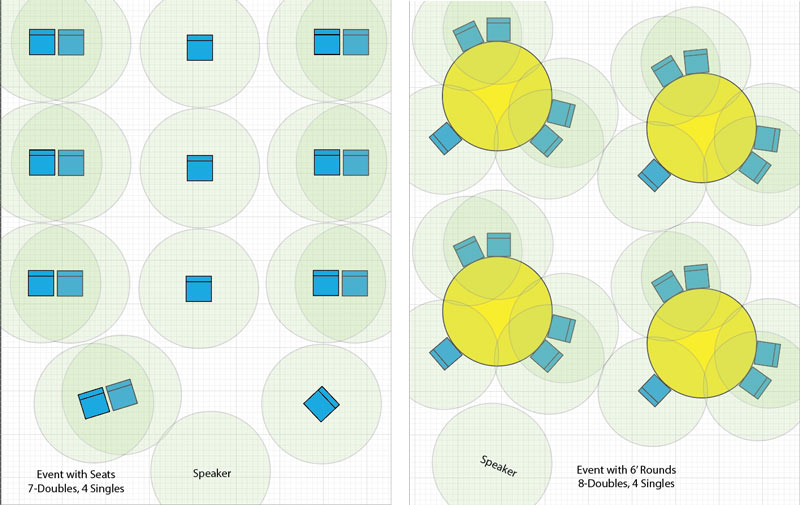 First, think about your space and how the seating is arranged. For those of you doing smaller events with a keynote or yourself talking to potential clients, the above type of seating could work.
Next, come up with a numbering system that you either implement at the event or when tickets are ordered. The advance ordering of groups works best because it allows you to cluster the group's seating, thereby increasing capacity. Another idea is to sell tables instead of seats.
If selling tickets at the event, give out numbers to the folks as they arrive. The first one gets a one and so on. This system helps to place the first row of people and work towards the back. Require a mask until seated and ask for everyone to remain seated. If they do need to get up for the restroom, require a mask to be worn until seated again.
If serving food, use a catering service and have the individuals order and pay for their meal at the time of ticket purchase. Some people are not comfortable with outside food service yet, so they have an option. If you can, and the weather cooperates, allow some time outside for social distance chatting.
Retail
People shop in stores for the experience. Think of business reopening ideas to make shopping match your brand. If you have a fun and funky shop, set up a hand-sanitizer in several locations in a leopard print container or wrap the bottle you have in a wrapping paper band to make it look pretty.
Don't forget the fitting room. Spray it down after each use. Ask customers to wear facemasks and give them one if they don't have one. Have sanitizer available inside the fitting room and post your policies on the wall. Have your designer create the procedures with your brand look and consider framing them to add some flare.
Make everything fun and positive, and consider adding humor if appropriate to your brand.
Signage

When planning your small business reopening, having clear and upbeat signage is essential. You want your customers to know that you are keeping them safe and what behaviors are expected of them. The clearer you are, the more comfortable they will feel.
As people venture out from the stay-at-home, each person has a different level of comfort. You want to show each of those comfort segments that you have their best interest in mind.